Thrill seeking vacations & tips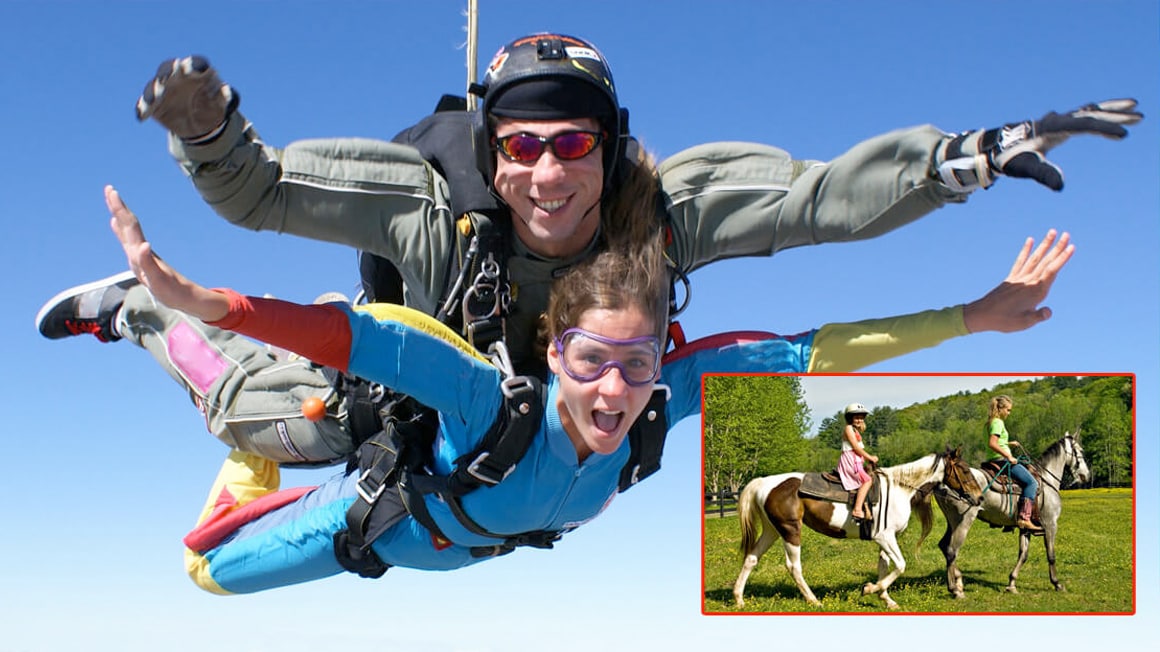 Thrill seeking vacations & tips
What do you think of when you hear the word vacation? Rest and relaxation? Time away from work and stress? Perhaps the word has a different meaning for you.
For me, the word vacation evokes an automatic urge for adventure! A time for me to reconnect with nature, experience the outdoors, and kick in my adrenaline! It can be a challenge discovering ways to access the great outdoors and, sometimes, even harder to get your adrenaline sensory going. That's why I have created this adventure travel resource specifically for thrill seekers.
Despite physical limitations, there are many adrenaline-inspired adventures worth exploring. Many people are ditching traditional vacations and replacing them with action getaways! Here are my best recommendations that are sure to make your vacation an experience you will never forget.
Do you long to experience complete freedom? How about Skydiving?
I'm almost certain that when you experience the freefall from 10,000 at 200-miles per hour, the farthest thing from your mind will be your disability. Skydiving is offered by many different organizations that are certified for tandem jumps. Skydiving can be enjoyable regardless of ability. Tandem skydives involve the participant being securely attached, in a well-designed harness, to a certified instructor. At all times, the instructor has full control and is responsible for all the work. This sport is extreme and would certainly require careful consideration. But don't cross it off your list just because of physical limitations. Add it to your bucket list and I recommend Florida. It is a venue as an ideal location for a tandem jump. You will have a bird's eye ocean view.
Ziplining is widely available across the country and a safe and economical way to feel the wind in your face. In fact, there is an all-inclusive, accessible zipline at The NEW Zoo located 10 miles from downtown Green Bay, WI. A unique pulley system comes down from the top of the zipline landing and attaches to the participant. There are a number of harnesses and safety clips on the pulley. The pulley is attached to the zipliner who is lifted directly out of their wheelchair! The ziplining experience starts from the moment you are lifted 50 feet right out of your wheelchair! To make your ziplining experience perfect, call ahead and explain the specifics of your limitations.
Do you enjoy the water? Think about whitewater rafting the South Fork of the American River, California's premier river-running experience. Stretches of this river are rated on safety. Certified instructors will review the technical difficulty and skill level required to successfully navigate in a raft. The rating system is based on the International Scale of River Difficulty. Disabled USA Far West offers Class 2 and Class 3 rapids to get your adrenaline pumping.
Saddle up a horse for your next outdoor vacation. Stables for horseback riding can be discovered easily and you may be surprised to find that most are equipped and trained for accessible riding. If you visit the beach, the mountains or anywhere in-between, the horses can help you reconnect to the great outdoors. ¨We Can Ride¨ is an organization dedicated to therapeutic horseback riding.
Tips to help make your thrill seeking vacation a success:
Your safety and well-being are the key ingredients to making your journey a successful one.
Look for programs that are specifically established for the activity of your choice. Make sure the program has credentialed physical and occupational therapists in their program.
Research, research, research. Visit disability online forums and ask peers if they have experienced the action packed vacation you may be considering.
It is always smart to discuss your plans with a physician. There may be things your physician can help answer prior your trip.
Have a backup plan! I have learned from experience that things, in reality, can and will change. That's why I attempt to have a ¨Plan B¨ that is just as exciting as my original idea.
And don't forget to have fun and make a memory that will last a lifetime.
View full article at Bard Care
This article is from our Bard Care community of people from all walks of and wheels of life. Read more stories.
How We Serve Our Customers Differently

We're more than just medical supplies. Learn how we provide the services you need to find the best product for you.

Catheter Tips & Guides

Fit, comfort, discretion —with catheter care, you probably have a lot of questions. Our Tips & Guides is a great resource.

Contact a Specialist

Our specialists are trained to address every delicate question or concern.

Call now: 855-948-3319