Having the Courage to Fly High with AcroYoga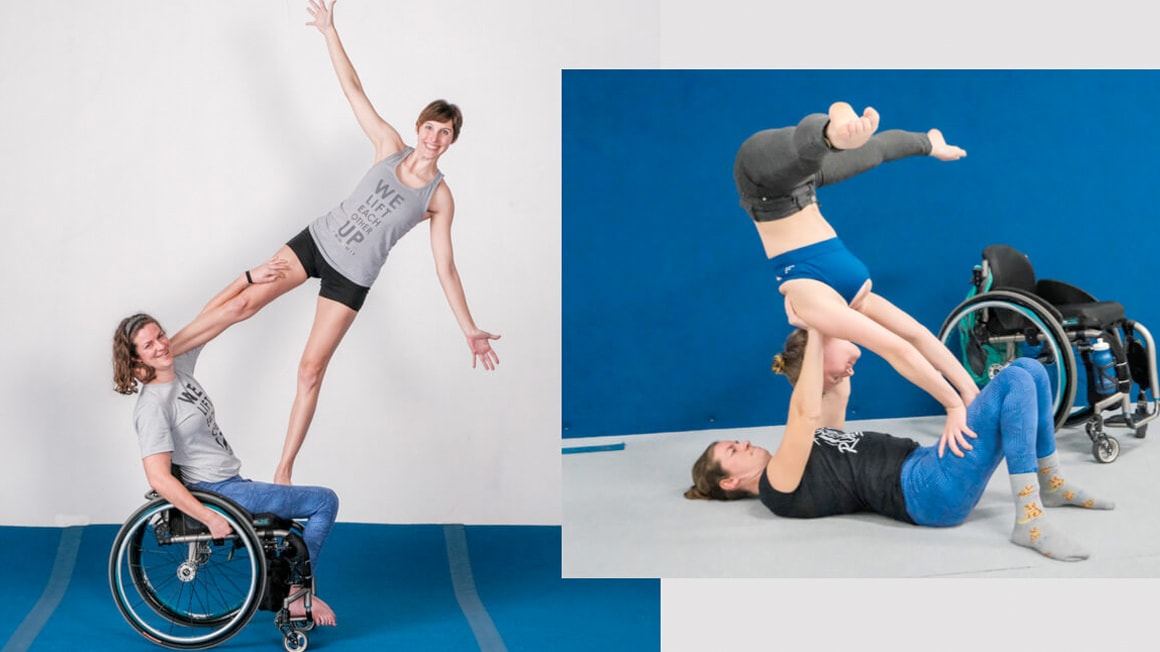 Having the Courage to Fly High with AcroYoga
Emily is assistant director for the Services for Students with Disabilities at the University of Texas at Austin. When she first began working at UT Austin, she was also playing competitive wheelchair rugby while completing her master's degree in social work.
Obviously, Emily likes to stay active. And this started at an early age.
When she was growing up, Emily played softball for 10 years and was a generally an athletic person. And then she started having unexplained physical symptoms.
No desire to slow down
Due to these complications, Emily began using a wheelchair full-time during her freshman year of college. She was eventually diagnosed with Lyme disease. Currently, she doesn't have full use of her hands or fingers. She has weakness and lack of control in her trunk. In her legs, Emily has little voluntary or controlled use of her legs.
But she wasn't going to let a wheelchair take away her love of athletics. While searching for physical activity that she could do from her chair, Emily was introduced to playing and competing in wheelchair rugby. Over time she added in tennis, triathlons, a half-marathon, kayaking and swimming.
"If it's active, I'm going to give it a try," she said.
Introduction to AcroYoga
While taking a break from competitive sports, Emily was looking for physical activity with a social component. She saw pictures of a friend doing AcroYoga. While chatting with him, she mentioned being interested in AcroYoga. But she wasn't quite sure that she would physically be able to do it.
His response?
"Come out and give it a try!"
Emily took her friend up on his offer. But she was hesitant to participate in an "unofficially" adapted activity. She knew it would be her responsibility to adapt the activity, even though she wasn't sure how to even begin modifying it.
But her fears were soon dismissed. Emily had to be open and honest with her fellow "acroyogis" who were unfamiliar with disabilities. They all worked together to figure how to modify the poses and transitions. On Emily's part, there could be no false confidence, but she also couldn't fear the unknown.
What is it?
Just like it sounds, AcroYoga is partner and group acrobatics combined with the strength and balance of yoga.
There are a few terms we need to be familiar with when talking about AcroYoga:
A flyer is the person who is in the air. That's where Emily started.
The base is an individual on the ground who supports the flyer.
A spotter is the person who keeps everyone safe by providing feedback and physical support (as needed) while trying new or complex moves.
"I didn't think I could ever base since a person's legs and arms are primarily used to bases. And then one day someone asked me if I wanted to try basing. And I did it!" Emily said.
She modified the basing mostly with additional use of her arms. They've also modified how the flyer gets in and out of the different poses. It was a joint effort in trial and error.
When trying a new pose, they'll have 2 to 3 people spotting. By working together they all get to see how a pose can be modified to make it work. It actually ended up being a perfect fit. So much of AcroYoga is making adaptations – even for able-bodied participants.
In love and so much more
So how quickly did she fall in love with AcroYoga?
"Pretty much the first time. It was a challenge. I had to be strong. I got to push and explore the possibilities with a group of really cool people."
In addition, Emily has experienced numerous benefits of AcroYoga.
Physically, it's motivated her to get even stronger. Emily has also noticed increased flexibility and range of motion, especially in her hips and back.
Socially, AcroYoga introduced her to an amazing community of people who are willing to learn new things alongside of her.
But for Emily it's the mental aspect of challenging herself to try something new that's been the toughest part of AcroYoga. She's learned not to discount something before she gives it a try.
"I enjoy figuring out why I can't do something. It motivates me to get stronger or improve my flexibility."
An example to follow
Emily serves as a great example of how we can all get involved in an activity that isn't necessarily considered "adapted." Whether it's a Zumba class, yoga, painting, dance or another activity, we can always learn about ourselves by trying something new. And getting out of our comfort zone is the only way we can ever know how much we're capable of doing.
View full article at Bard Care
This article is from our Bard Care community of people from all walks of and wheels of life. Read more stories.
How We Serve Our Customers Differently

We're more than just medical supplies. Learn how we provide the services you need to find the best product for you.

Catheter Tips & Guides

Fit, comfort, discretion —with catheter care, you probably have a lot of questions. Our Tips & Guides is a great resource.

Contact a Specialist

Our specialists are trained to address every delicate question or concern.

Call now: 855-948-3319