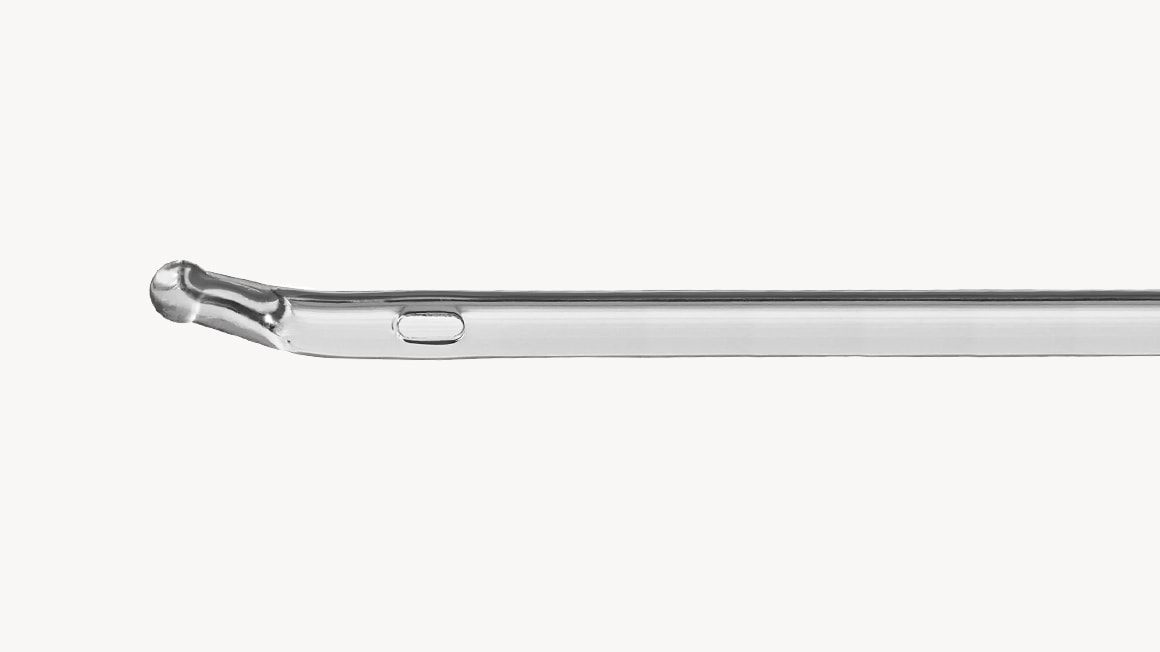 Coudé Catheter Guide
With Liberator Medical™, you have access to one of the largest inventories of Coudé catheter supplies in the country. Most healthcare providers will offer samples of intermittent catheters that have a Coudé tip when determining which style is most comfortable and effective for your individual use.
We invite you to contact one of our manufacturer-trained Urology Specialists to request additional samples of Coudé catheters for self-evaluation as you learn more below.
What is a Coudé tip catheter?
The American Urological Association (AUA) defines a Coudé catheter as a catheter that has a curved tip. "Coudé" is French for the word "elbow." The smooth, special curved tip of a Coudé catheter is designed to allow the catheter to pass beyond tight spots more easily.
A Coudé catheter tip "allows the [catheter] tubing to better navigate the natural upwards curvature between the bulbous urethra and prostatic urethra (as opposed to conventional straight catheters, which enter at a straight angle and can cause urethral false passages by trying to tunnel under the prostate)."
Types of Coudé tips on intermittent catheters
The three main types of coudé tips are defined by the angle and length of the curved tip on the intermittent catheter. The different types include:
Tapered Tip: These coudé catheters are the traditional and most common type of coudé catheters. Easily recognizable by a short, strong curve that's slightly smaller at the insertion point, a tapered tip allows the coudé catheter to more easily bypass enlarged prostates or navigating through strictures.
Tiemann Tip: These coudé catheters feature a longer, tapered tip. Tiemann tips are often more flexible than other coudé tips. The flexibility allows for better navigation past urethral strictures.
Olive Tip: This is a shorter, ball-shaped tip that can navigate around obstructions to the bladder, like false passages.
Will my insurance cover a Coudé tip catheter?
Intermittent catheterization is covered when basic coverage criteria are met and the patient can perform the procedure. Use of a coudé tip catheter in female patient's is rarely reasonable and necessary. When a coudé tip catheter is used (either male or female) there must be documentation in the patient's medical record of the medical necessity for the catheter. An example of medical necessity would be the inability to catheterize with a straight tip catheter.
Our urology specialists handle all insurance paperwork and billing for you, taking the complexity off your hands. We're in-network with over 3,000 insurance plans, and we're adding additional plans every day. Please ask us to assist with your specific insurance questions about Coudé catheters.
Why have I been recommended to use a Coudé tip catheter?
If you have experienced one or more of the above conditions with a urethral obstruction, narrowing of the urethra, scar tissue or false passages, or pain and/or bleeding while self-cathing, your healthcare provider may prescribe a Coudé catheter for your daily use.
Which way does a Coudé catheter go when I insert it?
During placement of a Coudé catheter, the tip of the catheter should be facing pointed towards the ceiling or patient's face, assuming the patient is laying down.
How do you use a Coudé tip catheter?
Using a Coudé catheter that features a guide dot or guideline to help with proper insertion is widely recommended by health professionals. For example, the Bard Clean-Cath® Olive Tip Coudé Tip Catheter features a blue guide dot on the funnel end of the catheter to help determine placement of the angled tip.
Refer to the manufacturer's instructions for use for further guidance on your specific brand of Coudé catheter.
How many times can I use a Coudé tip catheter?
Like any other kind of intermittent catheter, Coudé tip catheters like the Bard Clean-Cath® Olive Tip Coudé Tip Catheter are designed only to be used once as a single-use medical device. Single-use catheters should be properly disposed of after use.
May I request samples of intermittent catheters or Coudé catheters to evaluate another size or style?
Yes, we are happy to assist you with Coudé catheter samples and invite you to request them here:
https://supplies.liberatormedical.com/ppc/welcomev3/
For further information on intermittent and Coudé catheters, talk to one of our manufacturer-trained Urology Specialists and learn how trying different product samples may be appropriate for your needs.
How we serve our customers differently

We're more than just medical supplies. Learn how we provide the services you need to find the best product for you.

Catheter Tips & Guides

Fit, comfort, discretion —with catheter care, you probably have a lot of questions. Our Tips & Guides is a great resource.

Contact a specialist

Our specialists are trained to address every delicate question or concern.

Call now: 855-948-3319