Five Types of Male Catheters: Intermittent Catheter Use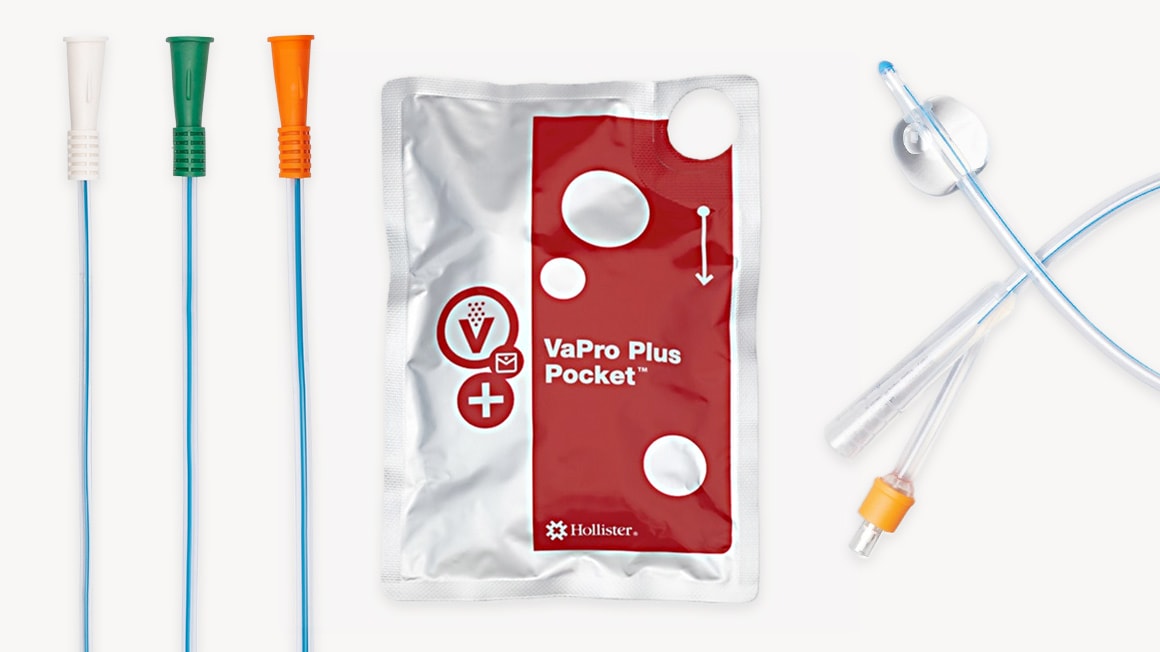 There are three main types of male catheters: indwelling catheters, external catheters, and single-use catheters (also known as intermittent catheters).
An intermittent catheter is a thin, flexible tube that a person temporarily inserts into their bladder through the urethra. The external end of the tube may be left open, allowing the urine to drain into a receptacle. Another option is to attach the tube to an external drainage bag, which collects the urine.
Men who prefer single-use intermittent catheters have a variety of options when it comes to choosing a male catheter (designed specifically for the male anatomy).
We invite you to contact one of our manufacturer-trained Urology Specialists to request additional samples of male catheters for self-evaluation as you learn more below.
Straight tip male catheters
According to the American Urological Association, a straight tip male catheter is a traditional simple catheter.
Most straight tip male catheters are made of silicone, rubber or plastic (PVC). Straight tip male catheters may be used for intermittent self-catheterizations and for urethral self-dilations that some people need to perform periodically for urethral strictures.
Coudé tip male catheters
"Coudé" is French for the word "elbow," which is used to describe the curved tip of this catheter. The "Coudé" catheter is particularly useful in men who have an enlarged prostate or have had prostate surgery, as it allows the tubing to better navigate the natural upwards curvature between the bulbous urethra and prostatic urethra.
Ready-to-use, pre-lubricated male catheters
Men who have had urinary tract infections or urethral trauma associated with intermittent catheterization may want to opt for a pre-lubricated male catheter as the user will not have to touch the catheter to apply lubricant before use. Pre-lubricated, ready-to-use male catheters come with a gel lubricant already applied to the catheter tubing, enabling the user to simply open the package and remove the catheter for immediate use.
Hydrophilic male catheters
Hydrophilic male catheters have a lubrication coating that binds to the surface of the catheter. When a hydrophilic male catheter is submersed in water, the lubrication coating absorbs and binds the water to the catheter, causing the catheter surface to become smooth and slippery. This slippery surface remains intact upon insertion into the urethra and maintains lubrication through the length of the urethra. The hydrophilic coating designed to help reduce friction as the catheter is inserted, with the goal of reducing the risk of urethral damage.
Like pre-lubricated catheters, hydrophilic male catheters do not require direct touch to apply lubrication and as a result, are more sterile and less likely to contribute to urinary tract infection.
Most hydrophilic male catheters are prepackaged in sterile water or come with a pouch of sterile water that is broken and released into the catheter package to prepare the catheter for use.
Closed system male catheters
Closed system male catheters are made with an attached urine collection bag and the catheter itself is pre-lubricated for immediate use.
When using a closed system male catheter, the catheter never comes in direct contact with the inserter's hands. These systems are designed for single use only.
Closed systems usually include pre-lubricated products with an integrated (all-in-one) collection bag, give flexibility for the user and are efficient for hospital use. Some closed systems are packaged as a sterile kit containing all the equipment required to do aseptic catheterization (for example, when traveling or while at work).
Most systems have an introducer tip that is passed through a pre-lubricated plastic sleeve or guide, keeping the catheter straight and lubricated as it is advanced. When the plastic sleeve is squeezed, it prevents the catheter from slipping during insertion.
Other types of male catheters
Another type of male catheter is a suprapubic catheter. A suprapubic catheter (tube) drains urine from your bladder. It is inserted into your bladder through a small hole in your belly. You may need a catheter because you have urinary incontinence (leakage), urinary retention (not being able to urinate), surgery that made a catheter necessary, or another health problem. The catheter will make it easier for you to drain your bladder and avoid infections. Your health care provider will change the catheter for you for the first time.
External male catheters are condom-type sheaths applied (usually rolled) over the penis and connected to a drainage bag. They are used primarily for urine collection in men who experience urinary incontinence but cannot be used by men who cannot void their bladder independently. The most popular external male catheters are disposable and must be changed every 24 to 48 hours.
Request complimentary samples of male catheters
A wide range of straight, coudé, hydrophilic and pre-lubricated catheters are available today from your Liberator Urology Specialist. Contact us with questions or to request complimentary samples when evaluating which male catheter works best for your individual healthcare needs.
Contact a specialist at 855-948-3319
How we serve our customers differently

We're more than just medical supplies. Learn how we provide the services you need to find the best product for you.

Catheter Tips & Guides

Fit, comfort, discretion —with catheter care, you probably have a lot of questions. Our Tips & Guides is a great resource.

Contact a specialist

Our specialists are trained to address every delicate question or concern.

Call now: 855-948-3319